Food & Frozen
Breaktime's fresh and refrigerated products are the perfect addition to your vending needs. Fresh food options are available in our markets and our vending machines and are ideal for schools, universities, hospitals, large offices, and manufacturing facilities. Like all Breaktime products, our fresh food is of high quality and is sure to satisfy. To learn more, our sales team will be happy to meet at your workplace!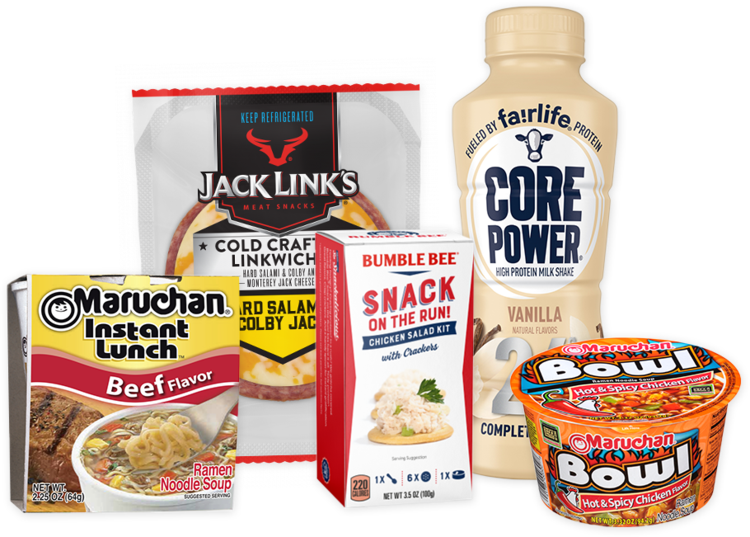 All Workplace Preferences Are Different
Breaktime offers many tasty food options via our micro market and vending services! Please let us know how we may assist you in offering meal options at work!  
Fresh Food Products Include
Fresh, cold cut sandwiches
Burgers
Salads
Enchiladas
Microwaveable hot foods like soups, macaroni and cheese, and pastas
Milk products
Breakfast items
Burritos 
And many more!
Browse Our Available Food and Frozen Products
Please contact us today to check out our food selection and to schedule a face to face meeting to discuss your fresh food needs.
Fresh Food
Hot and Ready Bacon Egg and Cheese Biscuit
Johnsonville Andouille Scrambled Wrap
Grand Prairie Egg Bacon and cheese Stuffed Biscuit
Johnsonville Italian Panini Breakfast sandwich
Johnsonville Spicy Sausage Bagel
El monterey Beef and Bean Burrito
El Monterey Spicy Hot Beef and Bean burrito
El Monterey Egg bacon Cheese salsa burrito
El Monterey Sausage Egg Breakfast Burrito
Pierre Signature Cheeseburger
Landshire Twin Chili Dog
Grand Prairie Sausage & Pepperoni Calzone
Grand Prairie Breakfast Pizza
Opaa! Beef & Lamb Gyro
Opaa! Chicken Gyro
Jimmy Dean Sausage, Egg, Cheese Sandwich
White Castle Cheeseburger 2Pk
Pierre Big AZ Bubba Twins
Hot Pocket Saug Egg & Cheese
Hot Pocket Meatballs w/Mozzrl
Hot Pocket Philly Stk & Cheese
Hill Shire Farm's Bagel Dog Cheese Smoked Sausage
Big AZ Hot Dog Bubba Twin Chili Chees
Stefano Calzone Deluxe
Pierre Tempting Turkey & Provolone
Pierre Harmonious Ham & Swiss
British Club Roast Beef, Turkey, Cheddar on Asiago bread
Mom's Italian Grinder Pepperoni, Salami, American Swiss Cheese
Hot And Ready Sq Wrap Sausage Egg Cheese
Johnsonville Sweet &Smokey Sausage Roll
Johnsonville Smokey Cheddar Sausage Roll
Pierre BBQ Pork Riblets
Fast Choice Double Beef Stacker w/ Cheese
Artisan Smoked Turkey & Cheddar Sandwich Smoked Turkey Cheddar Cheese On Rustic Oat Topped MultiGrain bread
Artisan Turkey Club With Oven Roasted Turkey
D/E Hickory Smoked Turkey and Cheese
Landshire BBQ Pork Rib
Fast Choice Breaded Chicken Breast
D/E Southwest Style Chicken Wrap
D/E Italian Deli Sub
D/E Turkey Club Wrap
D/E Mega Wedge Ham & Cheese
D/E Turkey & Cheese Mega Wedge
Artisan Smoked Turkey & Cheddar Sub With Smoked Turkey & Cheddar Cheese On Rustic Oat Roll
Artisan Ranch Chicken Salad Sandwich With Buttermilk Ranch Chicken Salad On oat Topped Dark Multigrain Bread
Artisan Italian Sub Spicy Ham, Provolone Cheese Genoa Salami, and Pepperoni on Herb Roll
Artisan Ham & Cheese Sub Smoked Ham American Cheese On French Baguette
Artisan Ham & Swiss Smoked Ham Natural Swiss Cheese On Rustic Oat Topped Multi Grain Bread
Landshire Country Fried Steak
D/E Chicken & Swiss
D/E Chicken Ranch Salad On Croissant
D/E Ham & Swiss Pretzel
Tony's Pepperoni Pizza
D/E Classic Smoked Ham & Cheese On Kaiser Roll
D/E Big Chuck
Artisan Ham & cheese Sub On A Pretzel Sub Roll
D/E Quarter Pound Cheeseburger 100% beef
D/E Roast Beef & Horseadish
D/E SmokeHouse Turkey Breast
D/E Smoked Ham & Cheese Sub
D/E Italian Style Wrap
D/E Chicken Caesar Warp
D/E Italian Focaccia
D/E CranBerry Almond Chicken Salad
D/E Mega Wedge Oven Roasted Turkey & cheddar On Sprouted Grain
D/E Market Fresh Mega Italian
D/E Classic Ham & Cheese
D/E Traditional Italian
D/E Mega Wedge Smoked Ham & Cheese
D/E Mega Wedge Hickory Smoked Turkey & Cheese
El Monterey Chicken & Cheese Chimi
Michelina Combo Pizza Snack Rolls
El Monterey Beef & bean Burrito
El Monterey chicken & Cheese Chimi
White Castle Chicken Breast Sandwich
Rudy Swanson's Sausage Biscuit
BF Plain Bagel W/Creme Cheese
D/E Mega Italian
D/E Chicken Salad Wedge
D/E Tuna Salad On Wheat
D/E Egg Salad Wedge
D/E Oven Roasted Turkey Cheese On Wheat
D/E Smoked Ham & Cheese
D/E Turkey Club Wedge
D/E Spicy Chicken
D/E Smoked Ham & Cheese Wedge
D/E Oven Roasted Turkey & Cheese On Wheat
D/E Ranch Chicken Salad
D/E Albacore Tuna Salad
D/E Dill Egg Salad
Frozen Treats
Heath Ice Cream Bar
Blue Bunny Vanilla Ice Cream Sandwich
Mississippi Mud Ice Cream Bar
D/E XXL Bbq Rib sandwich
Blue Bunny Chips Galore!
Blue Bunny Orange Dream Bar
Blue Bunny Neopolitian
Blue Bunny Chocolate Sundae Crunch
Blue Bunny Strawberry Sundae Crunch
Blue Ribbon Malt Cup
Blue Bunny Champ Cone