Snack Vending Machines
Breaktime offers a wide variety of snacking items to satisfy any craving. Please connect with us today to review our wide snack and vending machine selection!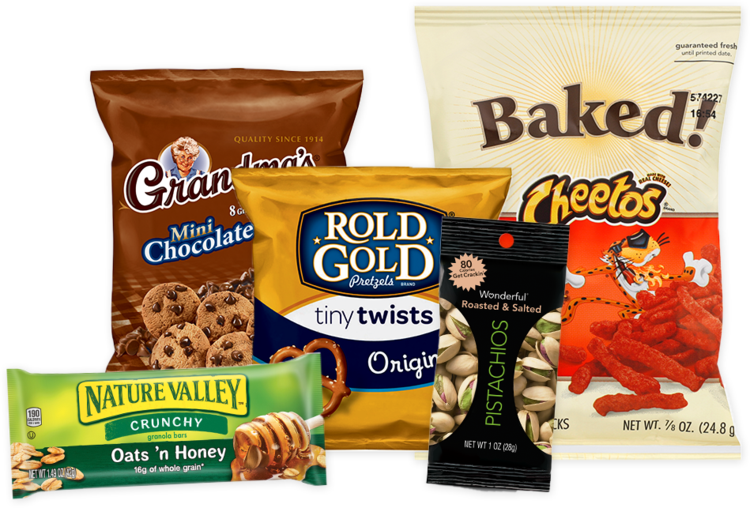 All Workplace Preferences Are Different
Breaktime carries all major brands for snacking products – Let us help you get the greatest snack product selection available for your team!
Sample of Snack Selection
Frito-Lay Chips
Boulder Canyon
Pretzels
Nature Valley Granola Bars
Kind Bars
Cheez-Its
Nuts
Trail Mixes
And more!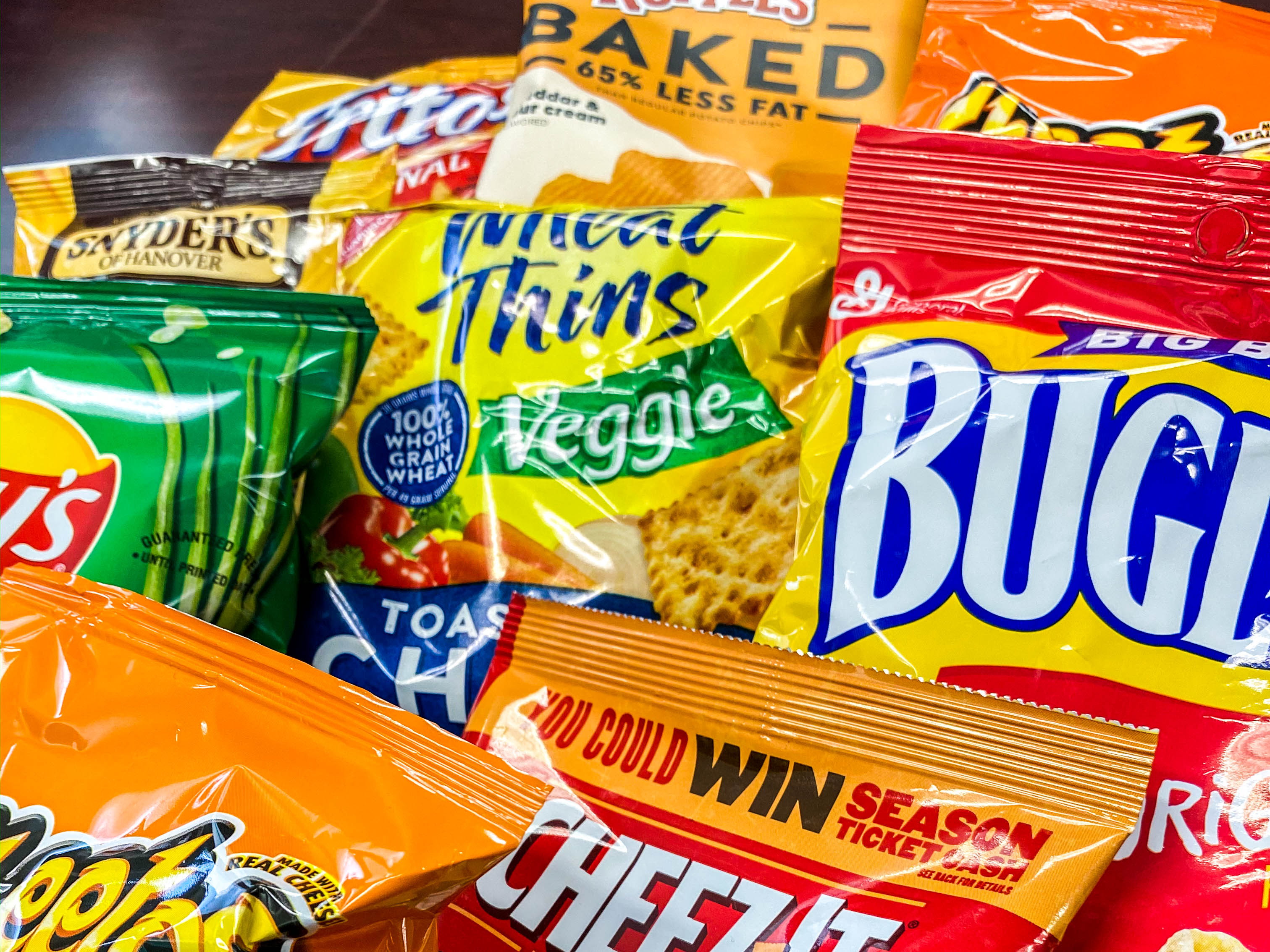 Browse Our Available Snack Products
Check out our great selection of snack products and get snackin!
Snack Products
Wiley Wallaby Red Liquorice
Munchies Cheese and Peanut Butter crackers
Boulder Malt Vinegar & Sea Salt
Baked Lay's
Ritz Bits
Maruchan Yakisoba Cheddar Cheese
Smart Food White Cheddar Popcorn
Rice Krispies
Stacy's Cinnamon Sugar Pita Chips
Pop Tarts Hot Fudge Sundae
Special k Chocolate Peanut Butter Protein Bar
Snyder's Hot Buffalo Wings Preztel
Kellogg's Frosted Mini Wheat's
Doritos Flamin Hot
Cheetos Crunchy LSS
Cheetos Flamin Hot LSS
Doritos Cool Ranch LSS
Doritos Nacho Cheese LSS
Fritos Chips Corn LSS
Lays Chips Regular LSS
Nature Valley Bar Granola Oat & Honey
Nature Valley Bar Granola Peanut Butter
Pop-Tart Frosted Brown Sugar Cin
Pop-Tart Frosted Strawberry
Nabisco Mini Oreo
Snyders Pretzel Cheddar Cheese Pieces
Pringles SC/Onion
Chex Mix Traditional
Gardetto Snack Classic
LSS Cheez-It
Nabisco Mini Chips Ahoy
Nabisco Wheat Thins Veggie Toated Chips
Mrs. Freshley's Buddy Bar
Basils Duplex Sandwich Cremes
Austin Zoo Animal Crackers
Stride Spearmint
Grandma's Cookie Vanilla Creme Mini
Salsita Chip
TGIF Potato Skins Chedder & Bacon
(Baked) Ruffles Cheddar Sour Creme
Jack Link's Tender Bites Teriyaki
Nut Harvest Whole Cashews Sea Salted
Pop-Tart Frosted Blueberry
Kar's Yogurt Apple Nut Mix
Bugles Nacho Cheese
Nature's Bakery Fig Bar Blueberry
Fritos Chili Cheese
Fritos Flavor Twists Honey BBQ
Mrs Freshley's Chocolate mini donuts
Mrs. Freshley's Mini Donuts Crunch
Mrs. Freshley's Chocolate Cupcakes
Planters Lightly Salted Peanuts
Ruffles Cheddar & SourCream LSS
Cloverhill Cherry Cheese Bear Claw
Wonderful Pistachio
Cloverhill Big Texas Cinnamon Roll
Cloverhill Strawberry Cheese Claw
Famous Amos Cookie Chocolate Chip
Cliff Bar Chocolate Peanut Butter Crunch
Pringles Original
Boulder Canyon Olive Oil Kettle Cooked Chips
Grandma's Cookie Big Peanut Butter
Grandma's Cookie Big Oatmeal Raisin
Ritz Toasted Chips SC/Onion
Grandma's Cookie Big Chocolate Chip
Sun Chips Garden Salsa
Lay's Sour Cream & Onion
Kar's Nut N' Yogurt Unsalted
Munchies Cheese Fix LSS
Nature's Bakery Fig Bar Raspberry
Kar's All Energy Unsalted
Kar's Cranberry Almond Delight
Lay's Barbecue
Pop-Tarts Cherry
Takis Fuego
Basil's Lemon Sandwich Cremes
Basil's Peanut Butter Sandwich Cremes
Rold Gold Pretzel Tiny Twist LSS
Bumble Bee Snack Chicken Salad and Cracker
Bumble Bee Snack Tuna Salad and Cracker
Popz Microwave Popcorn
Boulder Canyon Jalapeno Cheddar Kettle Cooked chip
Kellogg's Raisin Bran
Kellogg's Frosted Flakes
Kellogg's Corn Flakes
Pringles Cheddar Cheese 3 Tray